Status: Sailed (2013-2017). sold (2017).
Undoubtedly, the 2013 Pogo2 Mini Transat, Abilyn has transformed me from a racer/cruiser into a true seaman, and has unlocked resourcefulness and capabilities that I never knew I possessed. From hitting a top speed of 17.5 knots while sailing downwind in 30 knots of breeze in the 2015 Around Long Island Regatta en route to rounding Montauk only 1 hour and 15 minutes after Warrior Won (the overall 2016 Newport-Bermuda winner), to repairing Abilyn's rudders in the service entrance of my apartment building in Brooklyn, sailing and owning Abilyn has been amazingly rewarding, exciting, and invaluable. If you want to develop your skills as a fully-capable, self-reliant, offshore sailor, or just want to blast around at 15+ knots downwind with a grin from ear to ear while not spending a ton of money to do so, this is the boat for you.
Since acquiring Abilyn, my co-skipper and I progressively advanced in our ability to open the potential of the Mini Transat 6.50, took her farther and faster with each season, ultimate completing our goal of safely passaging from Newport, RI to Bermuda. In 2013, we practiced on weekend afternoons and then entered the Stamford Yacht Club Vineyard Race, taking Abilyn 250 miles, out of Long Island Sound, up to Buzzards Bay, around Block Island and into the ocean, and back. In 2014, we qualified for the Bermuda 1-2 Yacht Race, with skipper Josh clocking in 206 offshore, single-handed miles over 29 hours with a 24-hour distance of 175 miles--in one of the busiest shipping channels in the world. In 2015, Abilyn was put to her paces over the course of three solid weekends of offshore sailing totaling nearly 600 miles of racing and deliveries, and hit a top speed of 17.5 knots in the 2015 Around Long Island Regatta. In 2016, we crushed the Jolly Roger class in the 50th Newport-Bermuda Race.
Although technically ineligible to participate, we raced anyways, and prepared the boat according to the regatta' rigid safety requirements. After carefully analyzing a troublesome and ever-changing forecast, we set off for Bermuda after delaying our start for 24 hours while 1/3 of the official fleet dropped out. We crossed the ocean water between Castle Hill and St. George's in 5 1/2 days. Neptune marked our passage with a light-air beat to the Stream, three days of pounding through waves in 20-25 knots with two reefs in the main and one in the jib, ending with a light air beat to the finish (and Neptune also kicking my dog).
In 2017, we prepped the boat steadfastly and refused to be conservative in the 2017 Vineyard Race. When the easterly rolled through the race course as night fell, bringing 30 knots of breeze and steep seas, we buckled down and rode the thunder with a reefed main and Code 5 while other boats sailed under main and jib only. We averaged 15+ knots of boat speed for 6 hours met or exceeded our top speed set in 2015--we don't know as we couldn't see s**t in the driving rain. The sights and sounds from that race were tremendous.
Designed by renowned naval architect, Groupe Finot, Abilyn descends from a pedigree of successful ocean racers.
"Wow!" "What is that?" According to the launch drivers in Larchmont Harbor, these are the two most common phrases they hear from people being shuttled around the harbor. In a body of water dominated by J Boats, Abilyn (USA 829)--a Pogo 2 Mini Transat boat designed by Groupe Finot and built by Open Sailing USA--gets noticed.
The Pogo 2 was introduced by Groupe Finot in 2002, and has gone on to achieve tremendous success in the European Classe Mini racing circuit, securing podium finishes in many events including the fabled Mini Transat.
Since taking ownership of USA 829 in June 2013, Team Abilyn progressively took the boat farther and farther offshore, ultimately accomplishing our primary goal--safely completing the passage from Newport, RI to Bermuda. We did what we came to do, and it feels good.
Specifications
Home - Larchmont, New York
Bow number - 829
Designer - Groupe Finot
Builder - Open Sailing USA
LOA - 21 feet, 4 inches
Beam - 9 feet, 10 inches
Draft - 5 feet, 4 inches
Displacement - 2,149 lbs.
Ballast - 948 lbs.
Mainsail - 279 sq. ft.
Genoa - 193 sq. ft.
Jib - 129 sq. ft.
Spinnaker - 805 sq. ft.
Sail area to displacement (SA/D) ratio (upwind) - 45.35
Sail area to displacement (SA/D) ratio (downwind) - 104.15
Displacement to length (D/L) ratio - 99.0
Hull
Fiberglass
Resin-infused epoxy below waterline
Electronics & Navigation
DMK Yachtbox

converts instrument and GPS data to WiFi for use on mobile devices with apps like iNavX and iRegattaPro (both used while racing Abilyn)

Raymarine electronics (SeaTalk NG backbone)

Raymarine windvane
Raymarine DST800 transducer (depth, speed,
temperature) - spare transducer incl.
Raymarine i70 display
Raymarine p70 autopilot head
Raymarine SmartPilot X5 autopilot
Raymarine S1000 autopilot remote
Extra SeaTalk NG t-pieces (2x)
Electric tiller autopilot
Electrical
AGM batteries (2x) - charge maintained off-season via solar panel
Circuit breaker panel with 12v charger
Battery monitor
75w solar panel with regulators for each battery
Running Rigging & Other Lines
Runners / Stays

Marlow SK78 Dyneema runners (2x) (2016)

incl. both macro-tune and fine-tune

Samson Amsteel Blue Dyneema checkstays w/ 4:1 purchase (2x) (2016)
Babystay adjust w/ 4:1 purchase

Halyards

main & jib - soft shackle connection
masthead spin, frac spin - Equip-Lite connection

Sheets

jib sheets - tapered, soft shackle connection
spin sheets - tapered and continuous, soft shackle connection (2x set)
changing sheet - for transitioning to reefed state
snatch block sheet - for tweaking sails on outboard leads or tweaking spinnakers

Reefing

mainsheet reefing controls for first, second, and third reef points
jib reef control line

Spinnaker Pole

port/starboard guys
adjustable downhaul/bobstay (adjustable from cockpit)
tack line

Other

Vang
Outhaul
Dyneema mooring bridle
Miscellaneous lines for docking
Dyneema lazy jacks
Sails
Standing Rigging & Deck Hardware
Offshore & Safety Gear
Other
Representative Regattas & Passages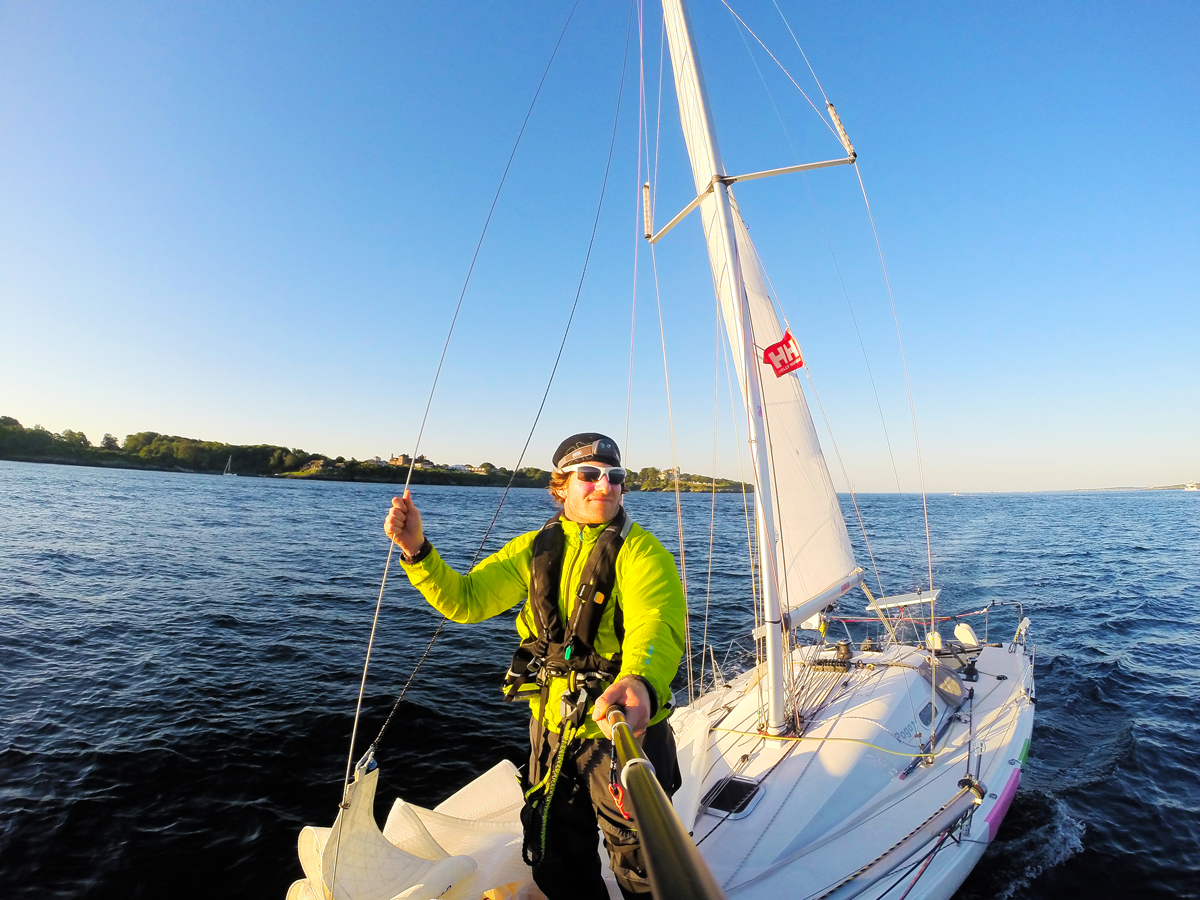 © 2014-2018 Abilyn Sailing. All Rights Reserved.